What's the Difference of Machine-made Weft, Hand-tied Hair Weft and Flat Weft?
Machine-made wefts are made mechanically and can be cut to size. It is more bulky and thicker than hand-tied weft and flat weft. It can add more volume, easy to make an appearance of fullness. It is economic and easy to freestyle. It is not as invisible and natural as hand-tied weft. It may not suit people with super-thin hair.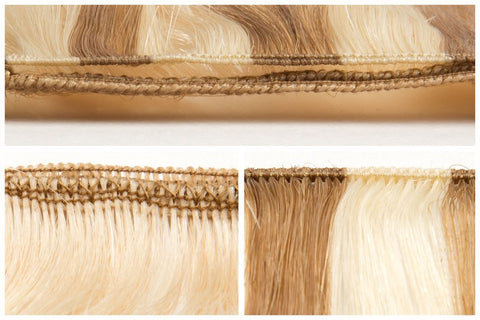 Handtied Hair Weft(Left)                      Machine Weft(Right)                                               
Hand-tied wefts are crafted by our highly trained staff in-house at our own workshop, assuring you of a top-quality, long-lasting wefts. Unlike the Regular hair wefts, which are thick and heavy, our custom wefts are small, strong, durable, and hard to detect. Our hand-tied wefts are just right in size which allows the hair to lay flat once in place. It looks more natural and invisible. Do not cut the width of the weft, if the weft is wider than you need, just fold it. Never sew through the top of the weft, sew in "over" and "under" the weft. Different from other hair wefts, hand-tied wefts can not be cut.
DO NOT cut the thread off of the weft edges. Never brush wefts when the hair is wet. The hair is in the most fragile state naturally when it is wet. Our hand-tied wefts are very strong and do not shed at all. Our wefts are full in Density and hold as much hair as the weft knot can hold.
Flat weft is sealed by a super-thin piece of silk base. It uses the technology of double-stitched to make it firmer. So it is hard to shed. It is soft and super-thin. When applying it, no one will notice it. It has no short hair on the top of the weft, preferred by perfectionist. It can be added closely to your natural hair, best solution for thin hair. Light weight, have no pressure to your natural hair.
About Thickness
Machine-made weft > Hand-tied weft > Flat weft virgin hair
Previous Highlights
---