Virgin+ Injection Tape in Hair Extensions
Hair Quality:
100% Virgin Human Hair. Double Side Seamless Injection Tape in Hair Extensions,No Tangle, No Shedding, Can be Washed, Curled, Straightened, Styled Like Your Own Hair, Please Pay Attention to the Heating Temperature
Weight:
5pcs/12.5g per pack; 10pcs/25g per pack; 15pcs/37.5g per pack; 20pcs/50g per pack
Color:
#4/27/4 Medium Brown Fading to Honey Blonde and Brown.
Please
b
e Noted There
a
re Slightly Color Differences Because of Different Lights and Monitor.
Notice: As High Quality Hair Extensions, Virgin Hair is Semi-finished Products. It Usually Needs About 20-30 Days to Finish.
What's Virgin+ Hair Extensions?
Virgin+ hair belongs to virgin hair, but is higher quality than virgin hair. Virgin+ hair extensions are taken directly from a single donor. They are made of human hair that is never chemically processed or color-treated. They are the best in hair extensions and are "living hair.
Why is Virgin+ Hair Expensive?
Virgin+ hair are from a single donor, completely free from perms, bleaches or dyes. Once you have processed or color-treated hair, it can never go back to virgin. So it is precious and highest quality. Since it's never been damaged by chemicals, the strands of virgin hair is very strong and it can last for at least a year with proper care. And virgin+ hair is cut from the natural hair that still can breathe, so it is truly "living hairâââââ€? It has not been exposed to any kinds of harsh agents and the cuticles all still have to be intact and running the same direction.

Advantages of Virgin+ Hair?
1.Virgin hair is chemically unprocessed hair extensions, they are healthy and natural as your own hair. It is comfortable, no stress to your hair and free from allergy. It can add your volume without any hurt.
2.Full cuticles hair extensions. Use unique technology to ensure 90% of the scales are not damaged. All the hair scales open in the same direction, no worry about tangling. It is smooth and silky.
3.Long lifespan in nature. Virgin+ hair is made of unprocessed real human hair, so it can last for a long time as natural hair. Usually it can last for at least a year with proper care.

Seamless injection virgin tape hair is more invisible and thinner than normal tape in hair extensions. It is more comfortable and feel like wearing nothing. It can last for 6 months to 12 months. Injection Tape hair is injected on tapes, looks like growing from your scalp. Give a perfect and natural appearance.
How to Wear Virgin+ Tape in Hair Extensions?
Use high quality and invisible tapes, our virgin+ tape ins are easy to apply and remove. No harm to your own hair and looks natural. Save the time and money for salon. It is convenient to remove before you go to bed.

How to Care Virgin+ Hair?
1. Wash and condition hair regular. Use sulfate free shampoo and a good conditioner. Do not wash it too often and do not use conditioners in the top place or near the attachment place.
2. Dry your hair naturally. Do not use hair dryer too often.
3. Never go to sleep with wet hair. Use a wide-tooth comb to detangle your hair.
4. When you use a heat iron, the heat should be under the 160 Celsius.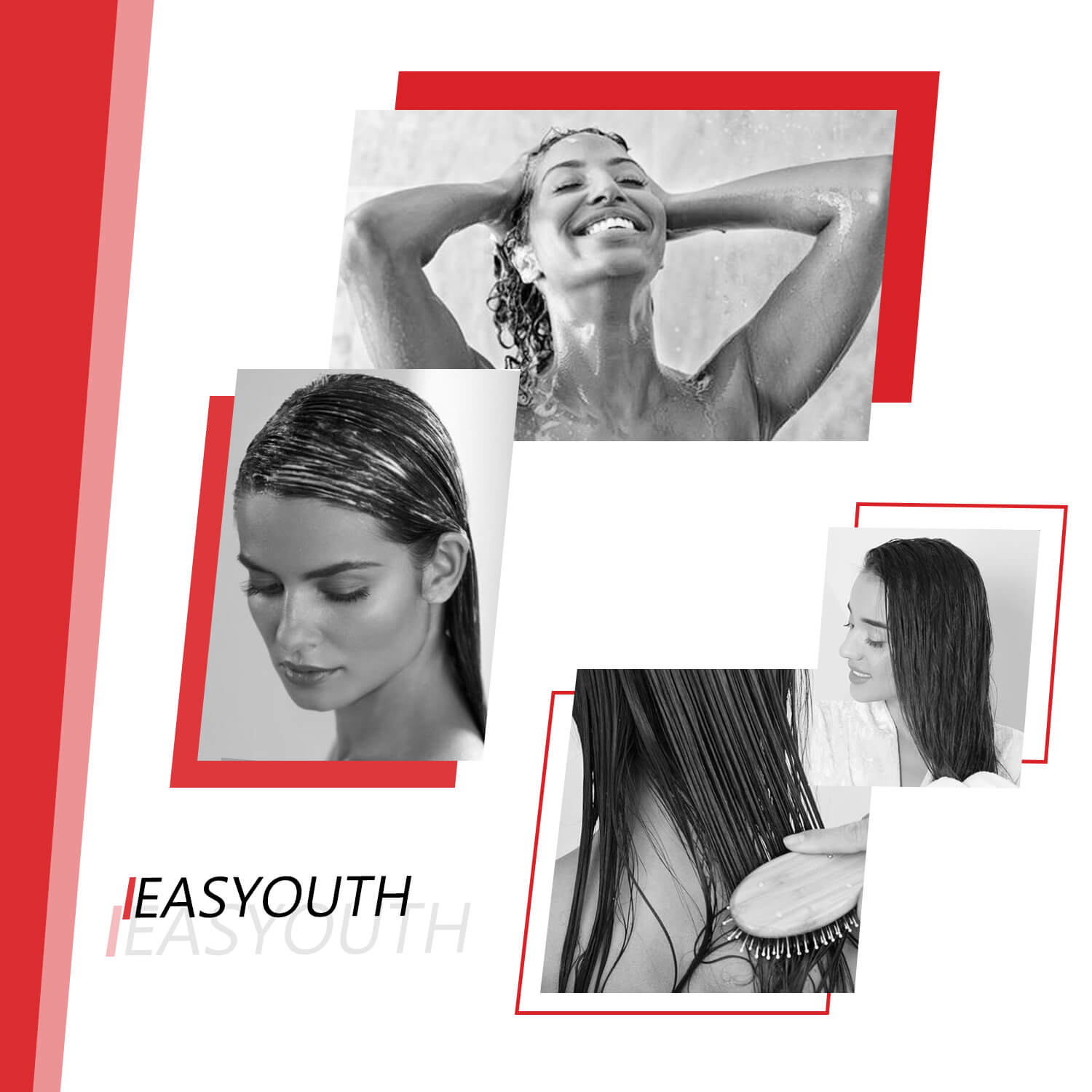 About us
The Page only can edit in LayoutHub Editor
Contact us
Contact:service@easyouth.com